EFI owners, the following does not apply to your cars.
Maybe it just applies to VW's running Weber IDF carbs?
Symptoms: when climbing steep sand dunes, sometimes (operating at less than wide open throttle) the motor sputters and runs on 3 or 2 cylinders. Once I get the car leveled out, I can get the car to cough a little, clear up and start running on 4 cylinders again.
After doing a little research, I suspect that the float bowl vent is spilling raw fuel in to the venturi's.
In this photo, notice the rectangular vent between the main jet stacks. A brass mesh screen is just below this opening to the float bowl. I'm sure the Weber engineers never imagined their carbs would be subjected to such extreme attitudes during operation. In the stock configuration, it operates just like a cup of water that will spill when it is tipped too far.
CB Performance makes a sort of snorkel to cap the existing vent and minimize this problem. It solves the problem just like when you put a lid on a child's cup (sip cup).
It requires just gentle pop with a hammer to press them in place.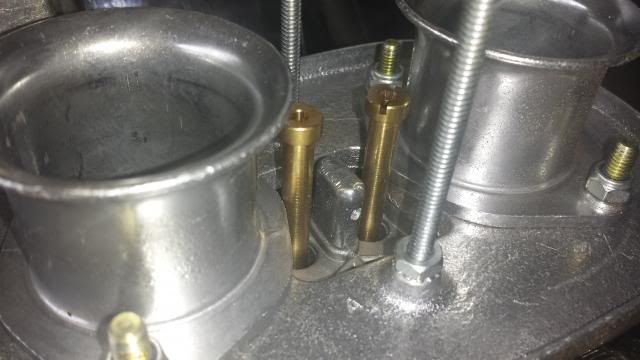 Dune trip coming up. I'll report results when I get back.