If you run Weber IDF carburetors in the sand, then you've experienced the frustration of the engine popping and running on 3 cylinders during low rpm's. Everything is fine one minute then bummer, an idle jet gets clogged up with sand or dirt.
As good as the Weber IDF carb is for tuning and helping the old VW pick up a few extra ponies, it has an inherent design flaw. The air intake for the low speed circuit is located in a vulnerable spot. It's the equivalent to the drain in a bathtub. If any sand/dirt gets past the air cleaner it will find its way to the idle jet and by now we all know what that means.
Conventional wisdom is to keep everything as clean as possible to prevent this from happening in the first place. In my case, I run two fuel filters (one at the petcock below the gas tank and another after the fuel pump before the carbs). I run K&N gauze type air filters with "outer wears". But to no avail. It only takes 10 minutes once you're back at camp to blow the jets out. This fix is after the fact and doesn't do you any good while your still out in the dunes.
Research on the internet is a wonderful thing. Besides the conventional wisdom mentioned above and some other nice people advocating air filters costing $300, $400 or $500, I finally came across a story in Hot VW's magazine. They published an article about "Jet Doctors" that claimed to fix the problem. Gosh, if it's published on the internet it has to be true. Right?
Turns out that a house call by the jet doctor is less than $20 per carb. If you can use a screwdriver and an electric drill, you're qualified to install these little promises on your Webers. Call me a sucker, but it's a small price to pay to find out if these things actually work.
The following photographs are supplemental to what you'll see when you read the magazine article or read the on line instructions.
What you get: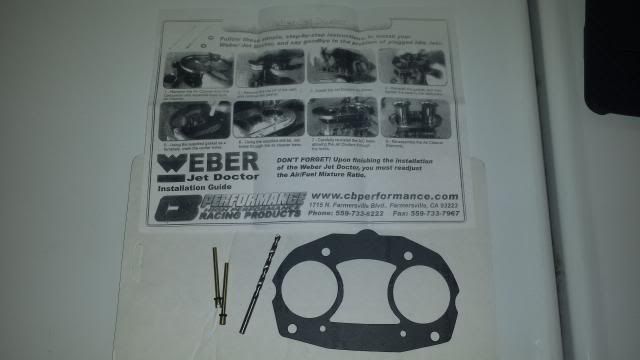 The actual jet doctor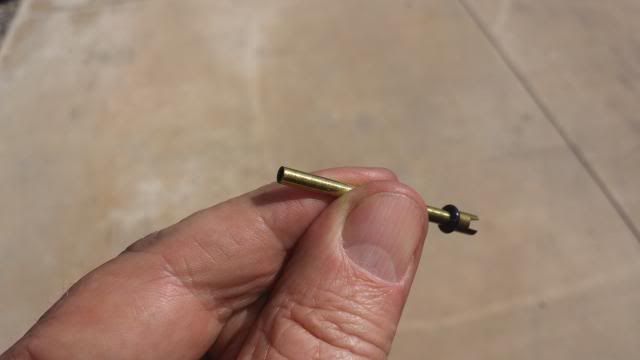 Where it goes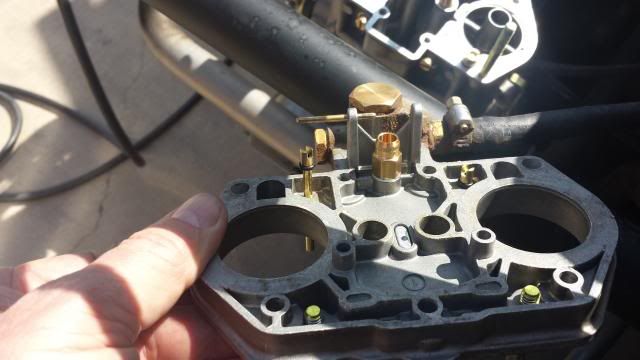 You'll need to drill the air cleaner base to allow the jet doctors (2 per carb) to stick up like a straw.
I'm all doctored up now. Dune trip coming up. I'll post results when I get back.