Very good news for Dumont Dunes...
The Gesualdo family donated a Buggyworks sand rail, 3 quads and a check for $5,000 to BLM for use providing medical assistance and visitor contact at Dumont Dunes. After watching the Tru TV's episode on Dumont Dunes that showed BLM's very old and well used buggy they decided to donate one of their buggies to the BLM. Expect to see them in use at Dumont in the Fall!
Many thanks go out to the Gesualdo family from each and every one of us! Thank you!!!!
(click the thumbnail for larger pic)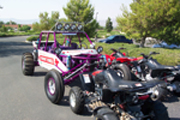 more pics here...
http://www.dumontduneriders.com/invisio ... topic=8818