Sat, Nov 8th: 1st Annual Dumont Dunes Poker Run!
Sponsored by FoDD (Friends of Dumont Dunes) and DumontDuneRiders.com
Come on out and join the rest of the Dumont community for the 1st Annual Dumont Dunes Poker Run! It will be held on Saturday, Nov 8th at Dumont Dunes.
The poker run's main objective is to raise awareness about certain Dumont issues and explain the importance of some critical areas along our dune boundaries (primarily the fringe toed lizard issue) . The poker run is open to all offroad vehicles and is for anyone who would like to participate! (Note: this is not a race.)
Registration will begin at 9AM across from bathroom 10 and the camp host area. You will be given your first poker card at signup. Then you will have until 2:00 PM to visit the four other checkpoints. At each additional checkpoint, you will draw your next card and have the opportunity to listen highlights about that particular area. You may ask any questions or voice any concerns at that point as well. There will be BLM staff as well as other well versed personnel at each checkpoint explaining valuable information about our dunes.
After you have collected all 5 cards, you will return to the signup/ event area and we'll see what you have for a poker hand. The top 3 hands win. There will be cash prizes for the winners. The more people who participate and the more hands that are sold, the more the prizes will be.
Entry fees are $20.00 for the first hand and $10.00 for each additional one per person. or 5 hands for $50.00
This is going to be a really fun event and we look forward to seeing you all there!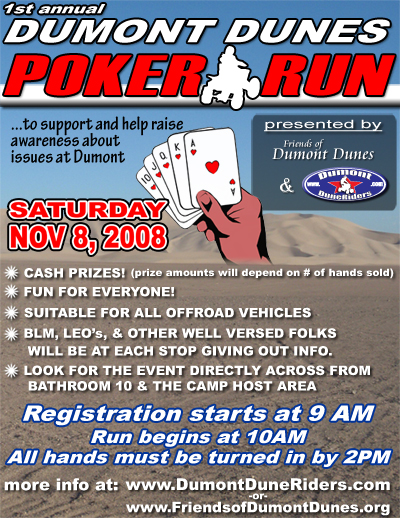 If you have any questions, please feel free to post them up.
-Pete @ DDR