Are you guys ready for October? Whats up fellow duners. Here is some pass info for the new season.
Not really much has changed other than annual passes are no longer available on site. They are encouraging duners to please buy their passes OFFSITE.
08/09 season pass info
Annual Passes purchased during the month of September are $10 off!
Regular weekly passes are still $30
Holiday weekly passes are still $40
Annual passes are available from BLM or participating vendors for $90 or $120. A $90 pass does not include holidays so a holiday upgrade must be purchased for $10 for each holiday week.

Annual Passes are no longer available on site. They are only available through the Barstow BLM office, or through a vendor selling the Dumont passes. You will have to purchase a weekly pass if you show up without an annual pass.
Passes are good for 7 days, but if you will be at Dumont for any of the following holiday dates you will need a holiday pass...
*October 29 - Nov 4 (Halloween weekend)
*Nov 25 - Dec 1 (Thanksgiving weekend)
*Dec 30 - Jan 5 2009 (New Years weekend)
*Jan 14 - 20 (MLK weekend)
*Feb 11 - 17 (President's Day weekend)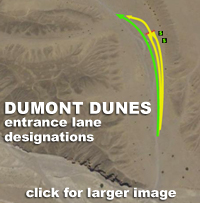 more pass info at
http://www.dumontduneriders.com/passes.html